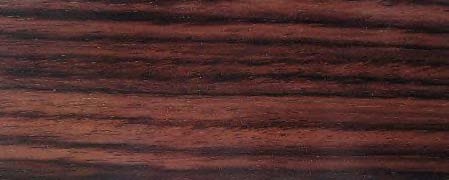 Indian Rosewood
Botanical name: Dalbergia latifolia
Origin: India
Weight: 880Kg/m3
Cutting: Squares and 2SE boards
Dryness: Kiln dried
Other names: Bombay rosewood, Bombay blackwood
Deep purple brown to reddish brown, more or less striped. Hard and heavy. Used widely for musical instruments.
Indian rosewood is historically one of the chief rosewoods of commerce and has been traded for hundreds of years. Felling is now strictly controlled by the Indian government and the logs are only sold to government approved buyers at auction. Export is also strictly controlled by the Indian Government to reinforce the value and precious nature of this timber so that it will remain available long into the future.
Export controls in this specie go back to the early 1980's and require the wood to be produced in to a high added value commodity such as veneer or into components for musical instruments and furniture. Available sizes of current imports are therefore rather small.
We were recently able to buy some old stock Indian rosewood that had been held by a Japanese importer since before export restrictions began. This was reimported to Europe via Germany and now represents the finest Indian rosewood boards and the best available sizes in the UK. A must for all Indian Rosewood afficionados and timber museum curators.
Spring Break Closure
We will be closed for a short holiday from Friday 1st April reopening Monday 11th April. It will not be possible to process online shop orders received after 30th March until our return on the 11th April. Please consider this when placing an order in our shop or visiting our warehouse.
Shop Online
Visit Timberline's online shop
New Catalogues
View our latest catalogues for Decorative and Specialist Woods and also Tonewoods for Guitar Makers.
Warehouse Visitors
We take the view that it is still appropriate to ask that masks be worn in the warehouse and that customers use the hand cleanser on entry. We will also be open on the basis of a maximum of 3 customers at any one time and ask that social distancing measures still be observed. Please read the notices at the door before you come in.
Follow us on Instagram!
Join our Mailing List:
Subscribe to our newsletters and recieve updates on new stock, products and industry news.
Click here to sign-up now.
Search Timberline's site: