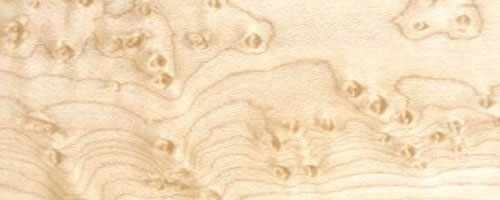 Bird's Eye Maple
Botanical name: Acer saccharum
Origin: USA and Canada
Weight: 720Kg/m3
Cutting: 2 square edged boards 100mm and wider 2000mm and longer
Dryness: Kiln dried
Other names: none known
Cream white with a reddish tinge, growth rings distinct and a hard fine texture. The bird's eye figure is rarely available in the solid and the cause of it remains a mystery.
Graded regarding the intensity, prevalence and depth of eye, and the lack of knots, brown heart or other discolouration.
Shop Online
Visit Timberline's online shop
Follow us on Instagram!
Our Catalogues
View our latest catalogues here.
Join our Mailing List:
Subscribe to our newsletters and recieve updates on new stock, products and industry news.
Click here to sign-up now.
Search Timberline's site: